Small, warty, pixelated frogs - unlikely candidates for NFT stardom. Why CrypToadz are durable, expectation-resistant, art-first PFPs and their resulting unique value proposition.
In structured analyses, I'll give a brief introduction before we answer the four basic questions. Questions one and four are open-ended, while questions two and three are structured:
Why do people buy from this collection instead of others?

What is this collection's strategy and key questions we must answer?

How good are the data?

What is the risk versus return on investment of doing this deal?
Some questions have subsections which are italicized, but look for the numbering and bolding to stay on track - these four questions are our north stars!
~~
Intro
Monsieur Skywalker (the Dude's PFP) comes from CrypToadz by Gremplin. CrypToadz, henceforth referred to as "Toadz," launched in September, 2021 at a mint price of 0.069 ETH and exploded in popularity.
Toadz reached a fever pitch a few weeks after launch with an all-time high (ATH) of 14 ETH before settling between 2-3 ETH. Toadz have the 18th highest volume traded all-time on OpenSea with over 71,000 ETH traded above VeeFriends, Chromie Squiggles, and even Fidenzas.
Upon initial inspection to the unaware, this may be dumbfounding.
Toadz are simple pixel art. Toadz comes with no utility. Gremplin is anonymous.
So why do so many OG crypto natives love Toadz?
~~
1. Why do people buy from Toadz instead of other collections?
People buy Toadz for the art, provenance, and collectability.
2. What is this collection's strategy and key questions we must answer?
Toadz is a static project, so let's unpack this with the 4 C's Model.
First, we'll evaluate the content: is it culturally differentiated, visually stimulating, or technologically unique?
Toadz's unique value proposition in content is threefold: provenance as the premier art-first CC0 PFP project, social commentary on NFT culture, and composability.
Art-First CC0 PFP Project
The magic of Toadz is a PFP project that is art-first with expectation resistance.
I can hear the cries now: "dude! My favorite project, the Woozy Wombats, is also focused on art." Well now - many, many PFP projects desperately claim to be "art first," yet could not be further from it.
The distinction lies in whether anything is expected out of the token after purchase, leading to a difference in static and dynamic projects. The vast, vast majority of PFP projects promise utility, community, and everything else under the sun. Friendly reminder that if a project offers utility beyond the initial token, that is a business disguised as an NFT project!
Few PFP projects exist purely as art, with no expectations. In fact, there are only two major PFP projects that are distinctively art: Toadz and Grifters by XCOPY (CryptoPunks may have qualified in the past, but Yuga's intentions with Punks are unclear).
Expectation resistance refers to a project's ability to exist and proliferate without any utility. For example, Chromie Squiggles (and all Art Blocks projects) have no further utility. The value is baked into their unique provenance and existence "as is."
Recognize that expectation resistance gives projects durability, because they exist and proliferate organically, as opposed to a prolonged marketing campaign from a company. Toadz will rise in importance as NFT art, CC0 and PFPs as categories become important because Toadz lies at the middle of a unique three-way venn diagram: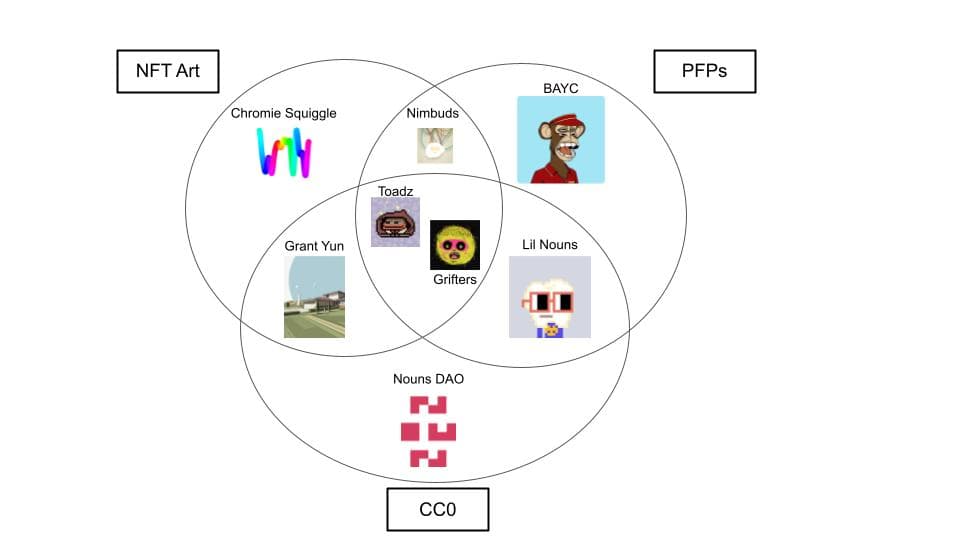 Social Commentary
The art of Toadz incorporates a variety of traits inspired from CryptoPunks while making distinctive social commentary on the space. Doodles founder Evan Keast explained on Twitter: "the summation of crypto art culture across the entire collection is clear. The trait variety is immense yet perfectly cohesive. The references are simple but sophisticated."
Toadz represented a flight to the first digital CC0 project, where rights are completely waived and the art is immediately in the public domain. In the flight, the inspiration of traits is Punk-derived (cigarrettes, ape/alien bodies, 3D glasses) as a nod to Larva Labs, while comprehensive in its reach (doge and "Toadenza" bodies - nods to Dogecoin and Fidenza, Nouns glasses, Matrix background).
The result is an incredibly impressive collection that simultaneously makes one laugh and browse without boredom.
Composability
There are three main factors which affect the composability: pixelation, utilization from outside actors, and harmony within the CC0 community.
Pixelation of NFTs is grossly misunderstood. Many see pixelation as simplistic art that lacks nuance, depth, and complexity. However, an underappreciated aspect of pixelation is easy replicability. Art - digital or not - with smooth lines is harder to accurately reproduce. For example, the original Super Mario character was pixelated, leading to an easy transition into marketing materials with variety: cross-stitch, poker chips, bottle caps, and novelty t-shirts.
Furthermore, pixelated NFTs carry smaller file sizes which are easier to put on-chain. The debate over both what exactly constitutes "on-chain" as well as how important "on-chain" NFTs are is beyond the scope of this analysis. I will offer that on-chain is, at a minimum, preferable to alternative storage types such as IPFS. Toadz was recently placed on-chain thanks to the efforts of wattsyart. As a result, Toadz retains unique provenance as one of the earliest pixelated art collections.
Toadz and Nouns appearances in Otherside promotional videos showcase premier examples of utilization from outside actors. Because both Toadz and Nouns are CC0, Yuga could use both collections freely as they wish. Other projects, funds, or companies can use the likenesses in any way they choose without seeking permission.
Harmony refers to how CC0 projects band together around the shared idea that CC0 is the best rights model for NFTs. Nouns supported Toadz, mfers, lil nouns, and other CC0 projects.
The friendship between the projects reminds me of the African proverb, "if you want to go fast, go alone. If you want to go far, go together."
In sum, the content comprising Toadz is effectively a unique art collection disguised and misinterpreted as purely another PFP. The lack of a roadmap, expectation resistance and resulting durability strategically positions Toadz to perform well over time. Furthermore, the collection's social commentary for a point in time and composability give the collection marketability rare amongst other NFTs.
Now let's take a look at the creator: do they have a provable reputation?
Gremplin's body of work prior to Toadz is substantial and began in January 2021. In an article for NFT Now, Gremplin explained, "I had previously dabbled in flipping CryptoKitties in 2017 and am aware of the volatility in the space. So I spun up a quick online presence and started to mint things in a sort of scattershot method. I didn't get the immediate success I thought I would have, so I looked at what was selling, which were things spinning around in 3D."
He made physical pieces out of wool and cardboard, filmed them spinning around, and minted them as NFTs on Rarible. Gremplin realized the magnitude of the NFT movement, so began providing social commentary on various influencers in the space with animated GIFs. After a different collection named Weird Whales launched, Gremplin made derivative artwork based off the Whales, including a version in which frogs were used, entitled "Freaky Frogs."
Around this time, Gremplin was also becoming involved in the Nouns project. Nouns is a juggernaut of a project, boasting a treasury that exceeds 27.5k ETH and funding multiple efforts across the CC0 landscape. Gremplin's friends came together from a variety of backgrounds to contribute to building, marketing, and launching Toadz - which sold out in 15 minutes.
Gremplin also recently released Oddities, a side project of the Proof ecosystem airdropped to Moonbirds holders. His irreverent pixel art and unique style are immediately recognizable and distinctive.
Two strategic themes to highlight from Gremplin's experience are consistency and engagement. Gremplin's consistency making art dating back to early 2021 is indicative of an artist who is, critically, not financially incentivized. I highlight the consistency because incentivization derived from art has far higher durability and is not subject to price fluctuations.
Simply put, Gremplin will show up no matter what the markets are doing.
Second, Gremplin's engagement is both excellent for an artist while also not solicitous. Gremp jumps in the Toadz Discord without being overbearing. The culture Gremp and the team developed is distinctive in that the community is positive and enjoyable, discussing everything from holiday plans to suggestions for Toadz derivative works.
Much like XCOPY, the mystery surrounding Gremplin's identity (and desire to stay out of the limelight) helps build the reputation and intrigue. Sometimes constant engagement is not what is best for a project!
Turning to the community: is it quantified and qualified?
The Toadz community has a wickedly deceptive genesis not readily apparent to the untrained eye.
Around the time of the Toadz launch in September 2021, significant frustration brewed amongst OG CryptoPunk owners, frustrated that Larva Labs would not release commercial rights to owners. Many Punk owners eschewed Larva Labs over the restriction of rights and began to seek projects without the trepidation of licensing fiascos. Notably, Punk4156, a prominent collector and founder of the Nouns project, essentially rage quit CryptoPunks in July 2021 after disagreement over licensing with Larva Labs.
Among the precedents set with Toadz was the relatively newfound (to NFTs) CC0 licensing model, which is described on the Toadz website as "To the extent possible under law, Gremplin has waived all copyright and related or neighboring rights to Toadz." It's worth noting that other projects, such as Blitmaps, were CC0 prior to Toadz, but lacked the specificities and social commentary of Toadz.
Many CryptoPunk OGs fell in love with the traits attributed to Punks, the unique memeification of NFT sentiment at the time, and the clear and open licensing model all combined in Toadz. The CryptoPunks Discord was reportedly on fire with interest in Toadz, with many OGs choosing to purchase Toadz, seemingly in spite of Larva Labs.
This rebel mentality permeated early Toadz culture and led to the purchase of many rare tokens from the collection, which are still notoriously diamond handed. Two separate high-end collectors I spoke with who requested to stay anonymous expressed frustration that rare Toadz (blood bones, hoodies, etc) were very difficult to acquire, despite competitive WETH bids.
The resulting pricing explosion after launch, in hindsight, was not beneficial for the Toadz's sustainability as many flippers purchased floor Toadz, leading to all-time highs for the collection in late September and a resulting crash soon thereafter.
A community originally formed around appreciation of permissionless application and composability with other CC0 projects devolved into a trading paradise. However, many builders remain engaged with Toadz. An entire website, ToadzToolz.com , compiles all builders on Toadz for idea consolidation and distribution. Few collections have this type of organic community building with frictionless permissions thanks to the CC0 license.
An example of community loyalty is the recently launched Toadzgotchi game. A simple version of the beloved Tamagotchi from decades ago, the game consists of feeding, playing, and sleeping your Toad to level up, gain points, and buy supplies.
Toadzgotchi isn't an example of an intricate, expansive universe on the level of Otherside; however, what it importantly showcases is community dedication and enthusiasm. Toadzgotchi is a product built from the bottom-up, not delivered from the top down.
One last note on community distinction: not all grassroots communities are created equally. Notable grassroots communities such as mfers were effectively willed into existence through (the artist formerly known as?) Sartoshi, a Twitter meme personality who notoriously vanished months after launching the collection. She directly encouraged participation from the community through a famous blog post on Mirror. By emphasizing the effectiveness of decentralization through the "officially unofficial" channels of a community organized platforms, Sartoshi pushed the community in an explicit fashion (neither good nor bad, just with a distinctive purpose).
By comparison, Gremplin encourages grassroots engagement but does not directly advocate for it. There is a conceptual distinction between the project seeking out the community and the community seeking out the project.
It's the difference between "we are actively enabling and deputizing our community to build through funding and infrastructure we provide" (a la Nouns and Moonbirds) and "here's the art, do with it as you will" (a la Toadz, Grifters).
The community is strong, unique, and participatory. These are key ingredients to a grassroots movement and continuing adoption.
Next, are the collectors reputable, long-term, and reliable?
Toadz are prominently featured in the galleries of DCInvestor, Richard Kim, Kevin Rose, Punk6529, Punk4156, and Curated Fund to name a few. This critically represents a large swath of an influential community jointly agreeing on the importance of Toadz. There are few collections that so many prolific investors all hold. Many whales proudly hold Toadz for the composability, provenance within CC0, and community zeitgeist.
Andrew Jiang of Curated explained the fund's thesis on Toadz: "It's a cryptonative collection, with a well known artist in Gremplin, a strong collector base, and very recognizable art. There isn't any speculative pricing based on a roadmap, so what you get is pure art and collectibility."
Andrew's commentary squares with the same components we discussed in the Content section regarding an art-first PFP project, something particularly unique in the space.
Toadz (and Gremplin) have unique reach among well-known collectors, with Kevin Rose featuring Toadz prominently in the Moonbirds collection with the "Gremplin" trait. Moonbirds have illustrious trait-specific utility, and speculation is rampant that the Gremplin trait may carry the utility of something relating to Toadz in the future.
3. How good are the data?
Data evaluation consists of four subquestions: is the data interesting? Is the data sourced? Is the data accurate? Is the data powerful?
Are the data interesting?
The data is interesting when separated into two distinctive parcels of time: early fall 2021 and summer 2022 to present day. In early fall 2021, Toadz experienced the worst pricing action possible for a project of its DNA: a rapid, aggressive, fast pump followed by a hard dump: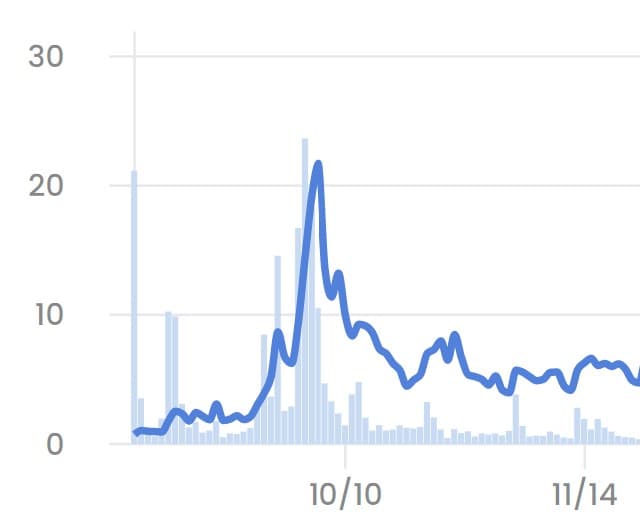 From September 25th to October 6th, 2021, Toadz experienced a staggering average price increase from 1.88 ETH to 21.73 ETH. At the peak on October 6th, the average sale price for a Toad was a whopping $76,489, making the market capitalization of Toadz $533M.
The fall from grace came just as dramatically: by October 19th, the average sale price was 4.47 ETH ($16,959), representing a decline of nearly 80% in ETH terms.
The second parcel of time, spring 2022 till present, is equally interesting but for different reasons. The late spring and summer of 2022 was devastating for crypto and NFT markets overall. Weekly, daily, and essentially any timeframe you can think of is characterized generously as "crabbing sideways."
More appropriate would most likely be to describe the time period as a "significant decrease in market activity."
But despite market-wide declines, not all assets performed exactly the same. Many collectors frequently heard sentiment around a "flight to safety." NFT collections perceived as durable performed better than their utility cousins, with collections like Art Blocks and CryptoPunks maintaining or gaining value as measured by market capitalization or volume.
When we compare average sale prices from July and October, we get this: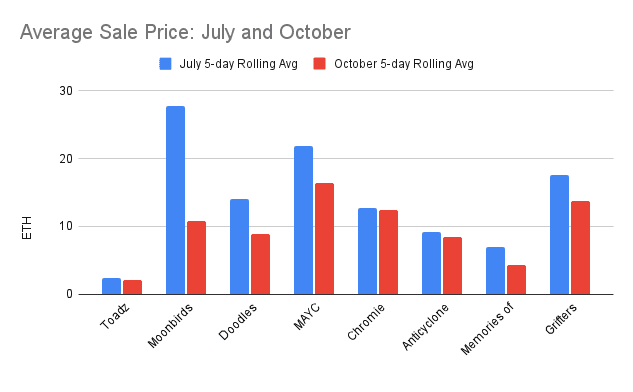 Taking a look across some of the top PFP and art collections while setting aside the very high end (BAYC, Fidenza, etc) to get a better sense of the middle market, we see a clear distinction: art held up better than PFPs.
The trend is dramatically more apparent when we look at the percentage decline: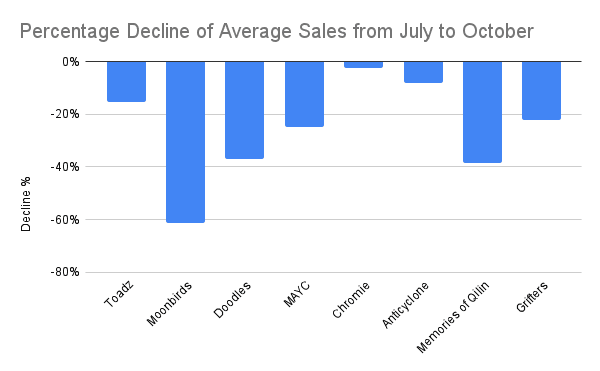 The top PFP collections analyzed all decreased by 20%+ from July to October. The art collections were generally more durable, with Chromie Squiggles notably experiencing only a 2% decline!
Toadz decreased by 15% from July to October on the rolling five day average.
Are the data sourced?
All data are sourced from OpenSea. OpenSea data was used because OpenSea generally dictates floor price for non-hacked/stolen NFTs.
Are the data accurate?
Data spot-checked and verified with Etherscan transaction history.
Are the data powerful?
So why are Toadz more resilient than other PFPs yet not quite as resilient as other pure cryptoart? Therein lies the key.
As we discussed earlier, Toadz are a uniquely positioned, art-first and expectation resistant PFP project. The vast, vasty majority of PFP projects have expectations tied to their future, like utility and merch and tokens and stuff. Toadz has none.
Toadz have durability because of their expectation resistance. It's the distinctive lack of a roadmap that gives Toadz strength. But even beyond roadmaps, many projects have expectations for change, including propagation and improvement for governance.
Across the recent bear market, Toadz performed more like an art project than a PFP project. The data points us to the thesis yet again that Toadz are art disguised as a pixelated PFP. This provides durability in down markets and organic growth in bull markets due to the lack of expectations.
4. What is the risk versus return on investment of doing this deal?
Risk within Toadz can be segmented into Gremplin's exposure to and involvement in three predominant ecosystems: Nouns, Proof, and the larger CC0 movement.
Gremplin has more direct connection with Nouns than Proof, as he was an original contributing artist to the Nouns artwork. Nouns is a beast of a project within itself, encompassing far more than can be discussed over the course of this analysis; however, risk with Toadz would lie in a Nouns ecosystem that slowly dies from lack of momentum, contribution, and engagement. Given the robust Nouns treasury of 21,116 ETH and rabidly enthusiastic contributors, it is hard to imagine a Nouns-less world. But, given the radical nature of the experimentation involved, it is a possibility.
In the event that Nouns fall out of favor and momentum slows, projects with strong ties to Nouns (like Toadz) may also face a similar demise. Many artists within the NFT space (and traditional art space) see their reputations rise and fall with their connections, so identifying a distinctive connection to Nouns is important when analyzing risk to Toadz.
The second source of risk lies in Kevin Rose's Proof ecosystem. Gremplin designed and created the artwork for the Oddities drop, a side project for Moonbird holders (the Proof ecosystem's PFP). Oddities was in classic, pixelated Gremplin style, but was met with some distaste and frustration amongst community members upon reveal. Different factors contributed to the frustration including the lengthy lead time to reveal (60 days) and the artwork, although the most realistic yet unspoken complaint was simply a falling floor price. Months later, Proof announced that Oddities could be burned to produce an NFT from the next Proof collection, Mythics, which returned some demand for Oddities.
Similar to Nouns but in a more centralized fashion, Proof is experimenting with a wide variety of blockchain technologies, products, and platforms to achieve mainstream adoption and drive value to token holders. With experimentation comes risk. Some of Proof's experiments have already faced backlash, such as abruptly transitioning their Moonbirds collection from an individual ownership license to CC0. If Proof greatly decreased in value, collections like Toadz may face medium levels of risk given the artistic exposure across both ecosystems.
Last but not least, Toadz face risk in the larger CC0 movement. Many futurists claim that CC0 is the appropriate and most frictionless license for NFTs going forward, but there are many legitimate arguments against the movement as well. How value accrues back to token holders who cannot reap the rewards of their IP remains to be seen, and it is not distinctively proven that owning the "original" applies in a digital environment. While it may be easy to point to examples such as Shakespeare, the Mona Lisa, or King Kong, none of those were digital assets.
CC0 is still an experiment in and of itself, and prices today do not necessarily reflect performance tomorrow.
~~
The Toadz slogan is "!vibe"
One will see it all over Twitter, in the Toadz Discord, and beyond. The exclamation point is a command prompt and "vibing" is what many Toadz owners proudly claim their Toad to do, in totality. Toadz do not pump, Toadz do not worry,  Toadz do not look forward to roadmap announcements. They simply !vibe.
Sophomoric jargon aside, the phrase is ironically accurate for the outlook on Toadz. As a static art project disguised as PFPs, Toadz strength comes from the distinctive lack of a roadmap, plan, or utility.
As a project with provenance in unique ways, Toadz may stand in the pantheon with iconic NFT collections for many years to come.
~~~~~
A Closing Note from Lebowski
If you found this research helpful, please consider collecting this article as an NFT below on Optimism for 0.0069 ETH (a nod to Gremplin and the 6969 Toadz in existence).
All proceeds will go towards rescuing Toadz from Evil King Gremplin.
Your contributions fund this research, and the Dude is passionate about bringing research directly to you without intermediaries like Twitter or advertisers - in this case for $10, which is most likely less than the cost of gas to purchase a new Toad.
If this is your first time collecting on Optimism, I've put together a super easy to understand guide on how to collect here.
The Dude does not take any paid advertisements because paid advertising makes the advertiser the customer while making you merely a product.
If you can't afford to contribute, please consider sharing this article however you like!
Thank you so, so much for reading!
~~
DISCLAIMER: The content posted here does not, and is not intended to, constitute financial advice. Readers should work with a financial advisor to determine whether cryptocurrencies and NFTs are applicable to or appropriate for their particular situation.
Furthermore, there are risks involved in making any investment in cryptocurrencies/NFTs. None of the information presented herein is intended to form the basis of any offer or recommendation or have any regard to the investment objectives, financial situation, or needs of any specific person, and that includes you, my dear reader. Caveat lector!
Resources